G: 2nd part
"Godey's Ladys' Book" (1830-1898) Ladies' practical fashion magazine.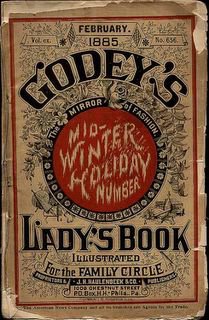 Gore (gusset) Triangular piece of material inserted in a corset garment to give extra width and more rounded contours. Especially used in early c19th for a more curvaceous effect.
Gosgrain A plain weave cloth with a prominent rib effect, heavier than Poplin and rounder the Faille. Usually of silk, cotton, viscose, acetate or nylon.
Gougandine A laced corset, partially open in the front; very popular during the reign of Louis XIV.
Guepiere A type of short boned corset, 5 to 8" in width, that appeared in the 1940's (similar to a "waspie"). Known as a "cincher" in the United States.
"Godey's Ladys' Book" (1830-1898) Revista de moda para mujeres.
Gore (escudo) dícese de la pieza triangular insertado en la ropa del corsé para dar anchura adicional y formas más redondeadas. Utilizado especialmente en el siglo XIX para dar un efecto de mayores curvas.
Gosgrain Tejido de ligamento de plana con un efecto prominente de rib, es más pesado que el popelín y más redondo el Faille. Generalmente se hacía en seda, algodón, viscosa, acetato o nylon.
Gougandine Dícese del corsé atado que se abre parcialmente en el frente; muy popular durante el reinado de Louis XIV.
Guepiere Dícese del corsé por debajo del pecho de unas 5 a 8 pulgadas de anchura. Salió en los años 40 (similares a un" waspie o cinturilla"). Conocido como "cincher" en los Estados Unidos.