C: 2nd part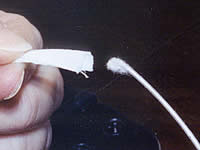 Casing

Cane
Hollow stem of giant reeds, or solid stem of slender palms, used as a substitute for whalebone in corsets. Extremely fine round or flat strips of cane are found in corsets and petticoats until the end of the c19th.
Case (casing) Strip of material, usually satin coutil, stitched to another along both edges to make a slot to contain bones and the such.
Collar canvas Used for theatrical corsets in give a strong character quality.
Considérations Hip pads.
Cord (cording) Strands of twisted or woven threads stitched between two layers of material for stiffening (used in corsets at the end of c19th, and petticoats in the first half of c19th).
Corps (c16th, 17th, 18th) Body, whale-boned body, stays.
Vástago o bastón hueco de cañas gigantes, o vástago sólido de palmas delgadas, utilizado como substituto de las ballenas en los corsés. Las tiras redondas o planas extremadamente finas del bastón se encuentran en corsés y enaguas hasta el final del siglo XIX.
Cubierta tira de material duro, generalmente tejido coutil de satén, cosida al tejido a lo largo de ambos bordes para hacer una ranura donde colocar las ballenas y similares.
Cuellos de lona utilizados en vestuario de teatro para dar una fuerte apariencia a los corsés.
Consideraciones Rellenos de cadera.
Filamentos de la cuerda (acordonado) de hilos de rosca torcidos o tejidos cosidos entre dos capas de tejido para dar apresto (utilizado en corsés hasta el final del siglo XIX y en enaguas a partir de la mitad del siglo XIX).
Cuerpo (del siglo XVI, XVII y XVIII) dícese de las ballenas y barrillas para dar le forma rígida al corsé.