B: 3rd part II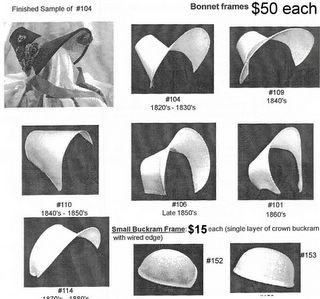 Buckram
Buckram (jean) Coarse linen or cotton cloth (or canvas) stiffened with paste or gum.
Bumbast (c16th, 17th) Paddings in garments that alter the wearer's natural shape.
Bum roll (Vertugadin - French) Roll about the waist to substitute for the farthingale.
Busk (busc, buske, busque) Piece of wood, whalebone, ivory, horn or steel slotted into front of stays to hold the torso erect. The integral front section of c19th corset shaped to control the abdomen, and also its steel stud and eye fastening. The removable types were often given as gifts of endearment by men to their women, many times adorned with words of poetry.
Busk Point The lace which tied the busk in position.
Bust Bodice (c1890) Covering for bust, usually with straps and sometimes lightly light boned at side and/or front for "mono-bosom" effect.
Bustier (c1947) A long-line brassiere, often strapless, usually worn as outwear.
El lino del buckram (mezclilla) o el paño del algodón (o la lona grueso) con apresto de goma o almidón.
Bumbast (siglos XVI y XVII) dícese de las guatas y rellenos en la ropa para modificar la forma natural del que las lleva.
Rodillo bum (Vertugadin - en francés) rodillo sobre la cintura a sustituir para el farthingale.
Busk Pieza de madera, ballena, marfil, cuerno o acero insertado en el frontal del corset para mantener el cuerpo recto. La sección frontal del corsé en el siglo XIX era para mantener el abdomen plano y controlado, también lo era por atractivo mediante una pieza de acero. Los tipos de Busk de quita y pon eran, a menudo, ofrecidos como regalos por hombres a sus esposas, muchas de estas veces se adornaban con versos.
El punto del busk es el cordón con que se fija el busk a su posición.
Bust Bodice Blusa para cubrir el pecho (1890) Normalmente cubrían el pecho con correas y a veces con una ballena ligera en los laterales y en el frente para dar un efecto uniforme de pecho.
Bustier (c1947) Sujetador de talle largo a menudo sin tirantes, utilizado generalmente como prenda exterior.