Fitting the size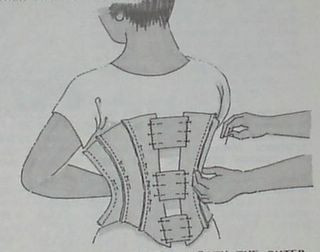 Fitting the size
After marking the pattern on the fabric (on the inner one), you should cut it and sew it.
Like the figure above, try it on and fit the real size. After that, we will sew it with sewing machine and fix the whalebones.
Después de marcar el patrón en el tejido (en el interior), debemos cortarlo y coserlo.
Como en la figura de arriba, probarlo y ajusta la talla real. Después, lo coseremos con la máquina de coser y marcaremos la posición de las ballenas.