Tools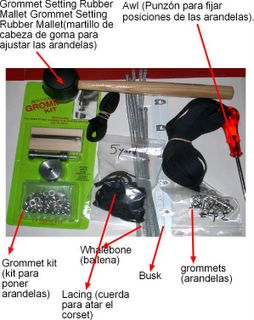 Tools

Here you can all the tools that we are going to use:
- Grommet kit
- Gromments
- Grommet setting rubber mallet
- Awl
- Whalebone and busk (that we already have been talking about)
- Lacing
I will use the grommet kit for setting grommets on the fabrin, as soon as they are on it, I will be able to fit the corset to my body with lacing. Awl is for helping making holes for gromments. And the rubber mallet is for setting grommets.
Herramientas:
Aqui están las herramientas que vamos a utilizar:
- Kit de arandelas
- Arandelas
- Martillo de goma para posicionar las arandelas
- Punzón
- Ballenas y
busk
(de los que ya hemos hablado anteriormente)
- Cordón
Utilizaré el kit de las arandelas para fijarlas al tejido para que una vez puestas, me pueda ajustar el corset a mi cuerpo con el cordón. El punzón es para hacer los agujeros donde colocaré las arandelas. Y el martillo de goma es para fijar las arandelas.